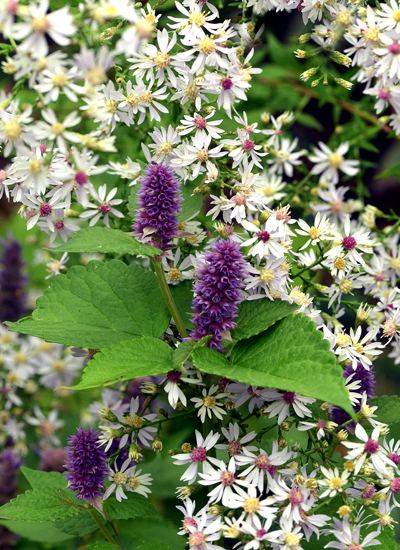 The garden at Pine Ridge is still relatively new. In 1999 a clearing was made in the woods so that the house and the Studio could be built. In April of 2000, the buildings were surrounded by a sea of sticky yellow mud....I started with the Herb Garden in front of the Studio. I quickly learnt that putting a spade into the ground would lead to one of two sounds: either a 'clink' or a 'clunk'. A 'clink' meant a smallish rock, one I could probably remove with much digging, prying with a crowbar, and so on, but a 'clunk' meant a rock that was part of the underlying granite and which would have to be worked around.
The Herb Garden is more or less finished. I used many of the rocks which I unearthed to make the paths. While the plants of course are always changing, there are now more than 40 different herbs in the garden. There are also some, such as mints, which I put around the corner as they are very invasive and need to be kept confined. And somehow a whole row of David Austin roses snuck in. They are so beautiful in early June that they are staying.
Beside the Studio, where the bulldozers pushed most of the soil and rocks excavated for the buildings, I have my Hillside Garden. This is a typical border garden, but with as many native perennials as possible included. Coneflower, Goldenrods and Asters come into their own in the late summer and fall. The Hillside is loosely terraced with more rocks, of course. Behind the Studio, I am experimenting with ornamental grasses. The large pile of sand is our septic system's evaporation bed. It cannot have trees or shrubs planted on it, but anything with a shallow root system is fine. The mound shape is a dead give-away, though, so I am trying to disguise it with waving grasses. To my surprise, many perennials which have either seeded themselves into this area, or been put there temporarily, are thriving. Many things like to grow in pure sand, it seems. The grasses, while still not all in place yet (grasses are expensive to buy and slow to multiply) are beginning to look quite exciting.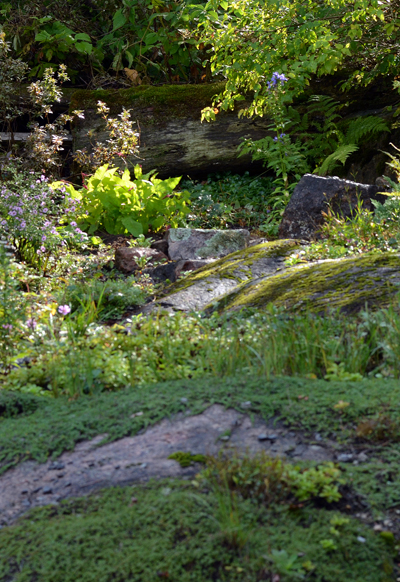 From the Sand Hill garden a woodsy path takes you through a small bit of shady woods to the top of the Rockery. There is still a lot of work to be done here. I am gradually clearing the area, which is a large rock outcrop, filling in various crevices and dips in the rock to make planting pockets and building paths and steps and terraces. Daunting at the moment, it has the potential to become a fantastic rock garden.
In front of the house is my Sampler Garden. I call it that because it will eventually have in it at least one example of every indigenous native plant which might be found elsewhere at Pine Ridge. This is where the spring ephemerals show best. In early spring, it is alive with Trilliums, Hepaticas, Bloodroot, Trout Lilies and other woodland plants. Two small ponds add habitat for wetland and bog plants. Plans call for developing the sides of the driveway as sample meadow and prairie plantings. Already aspens are growing, and a few prairie plants are getting established. It will take time for them to become showy. I also plan to have trails through the surrounding woods. Right now, there is too much to do elsewhere to keep them passable in the summer - the brambles grow much too fast!
You are very welcome to come and visit the garden. But please remember, it is still fairly new and is the work of only one not-very-large or very young, gardener. The gardens are meant for display only, although there are often some potted native plants for sale. Please do not bring your pets. I have an energetic Border Collie, and while very friendly, her idea of playing with a visitor can do a lot of damage in a garden! See the Contact page for phone and address information.